If your home is a mess and you don't know where to start, use this list to declutter with ease and discover the ultimate secret to home organization. 
Are you drowning in stuff? You're not alone. It's estimated that 25 percent of Americans struggle with clutter at home and are desperate for storage solutions. But it can be hard to know where to begin when it comes to taming the mess and getting organized. So, where do you start? We've compiled a list of tried-and-true tips to help you dial back the clutter for good.  
Tidying Up Tips for a More Manageable Home

#1) Does it spark an
ugh
? 
You've probably heard of Marie Kondo's famous approach to deciding what goes and what stays. For each item, Kondo likes to ask, "Does this item spark joy?" But when you're overwhelmed with the sprawl of stuff in your home, it can be hard to remember which items are joy-sparkers. So ask yourself if an item triggers bad feelings — a big ugh — instead. If you listen to your gut, it will be happy to tell you which objects need to go and which are worth keeping.
#2) Make a list. 
There's real satisfaction in crossing off items on a list. Go through your home and jot down all the target areas you plan to declutter. Also, note any household jobs or fixes that need attention. It may be a long list, but you'll feel better and more in control having it down on paper (or a screen). 
#3) Do a little research. 
Sometimes it's easier to purge when you know your donated items are going to a really good cause. Goodwill and Salvation Army are always great places to take unwanted items, but you might get more satisfaction from giving locally to smaller organizations. Find charities and nonprofits right in your area and ask them if they might be able to use what you have on offer. 
For instance, many towns, even small ones, have at least one or two animal rescue organizations that might be able to use old blankets and towels. Women's shelters and refugee organizations in your neighborhood might be able to use old furniture if it's in good shape — and if they're local, they might even come and pick it up themselves. 
#4) Loading zones for the win! 

If you're overwhelmed with clutter and don't know how to start the process of streamlining your possessions, having a dedicated loading zone in the corner of one room can help. Make two piles, one for definite giveaways and one for maybes. The trick with a loading zone is to make it a temporary site as you give your keeper possessions a little elbow room. Do not allow the zone to become a permanent fixture in your home.
 If you're a procrastinator, you can see why this approach might not work for you. So if a loading zone at home is too dangerous a proposition, consider a secure, climate-controlled self storage unit for your maybes, seasonal items, sports equipment, and anything else that takes up too much real estate in your living area.
#5) Trash bag party. 
Gather everyone in the household and distribute two large plastic trash bags to each person, one for garbage and one for giveaway items. Set a timer for 30 minutes or an hour. At the end of the allotted time, take out the trash and load up the car with the donations. 
If you've got a self storage unit, this is a great time to haul away anything that takes up too much space at home, like suitcases and camping equipment, or a hobby that you'll get back to someday. Afterward, celebrate the day's achievements with a pizza party, ice cream, or some grownup beverages. 
#6) Start small.
Like, really, really small. If your house is overstuffed, it might not be possible to do it all in one day. And that's okay! Dedicate yourself to one surface or one drawer at a time, or simply allocate five or ten minutes a day to decluttering an area. By the end of a week, you'll be amazed at how much you've accomplished, and you'll likely still have the stamina to keep going. 
#7) Empty closets.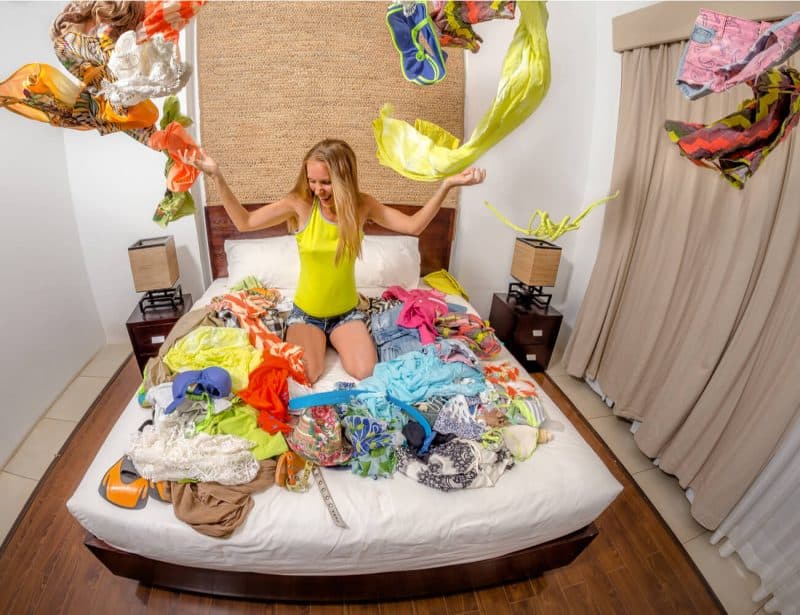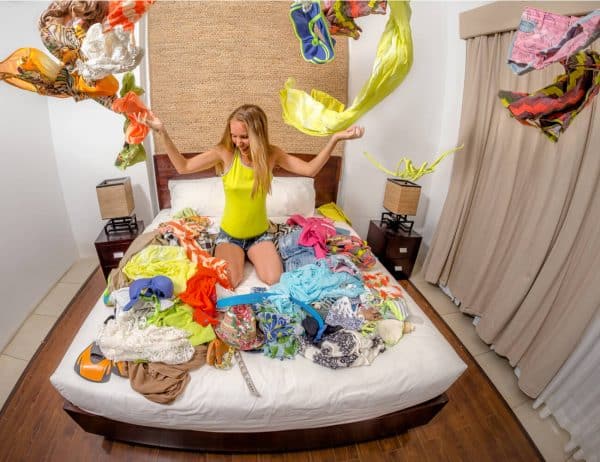 Yes, every single one. You may be making progress decluttering, but the stuff you can see is just the tip of the iceberg. You also owe it to yourself to empty your closets. Most people cram years and years' worth of belongings in the back of our closets, and it's out of sight, out of mind until you move.
Cleaning out the closets every year is a great way to ensure you're not holding on to more than you need, from clothing to shoes to equipment to sentimental items. We know it's not the most fun job, but it might just net you several hundred square feet of unexpected storage space, and who doesn't like that? Trust us. It's worth the slog. 
#8) Get feedback. 
Ask a family member or a friend what they think of your home — and how they might use the space if it were theirs. When you live in a place for a while, you tend to get desensitized to unsightly messes and awkward furniture arrangements — and we all tend to underestimate the amount of clutter we're living with. So it can be helpful to get a fresh set of eyes on the area to help you envision what your space could be like with a bit of extra work. 
#9) Get inspired. 
When you're sitting in a pile of clutter, inspiration can be hard to come by. But you'll be more motivated to crack down on chaos if you know the destination. Are you trying to take back your dining room table, or maybe an entire room? If you're old-school, tack up some magazine or catalog pictures of the space you're aspiring to. Pinterest is also a great way to create a virtual vision board and keep your decluttering progress on track. 
Level Up Home Organization with These Additional Decluttering Resources
Otto Self Storage Has You Covered

If you're emptying your home of clutter and need a little more storage space to keep it that way, we'd love to help you take back your home. For a household that is bursting at the seams, a self storage unit might be the answer. Decluttering is a far easier job when a secure, climate-controlled unit is waiting. 
We're proud to offer tenant-friendly storage facilities in the state, with more than 25 years of combined experience in the industry. We're committed to five-star customer service that the big names in self storage just can't beat. 
For storage solutions with a great experience in the St. Charles, Farmington, Ste. Genevieve, or St. Louis areas, give us a call, browse locations online, or drive by one of our storage facilities to get set up with a brand new storage unit. Want to know more? Check out our storage tips and FAQs. We look forward to welcoming you into the Otto Self Storage family!